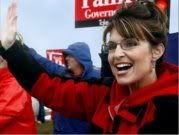 Well, here's a case of extreme exaggeration at its best, and out-and-out lying at its worst. Wednesday morning on NPR, while discussing the financial crisis, talk (naturally) turned to his running mate, Sarah Palin. When questioned about her knowledge of foreign policy ... well, here's the transcript:
Given what you've said, senator, is there an occasion where you could imagine turning to Gov. Palin for advice in a foreign policy crisis?



I've turned to her advice many times in the past. I can't imagine turning to Sen. Obama or Sen. Biden, because they've been wrong. They were wrong about Iraq, they were wrong about Russia. Sen. Biden wanted to divide Iraq into three different countries. He voted against the first Gulf War. Sen. Obama has no experience whatsoever and has been wrong in the issues that he's been involved in.
So, remembering what we already know: that John McCain met Sarah Palin only six months before announcing her as his running mate in August of this year. That means that over the past seven months he's turned to her "several times." Please, give us more credit than that.
As far as being wrong on the Iraq War, let's not forget McCain's own gaffes on the issue:
"Because I know that as successful as I believe we will be, and I believe that the success will be fairly easy, we will still lose some American young men or women." [Larry King Live, 9/24/02]

Yeah, it's been easy, all right.



"But the point is that, one, we will win this conflict. We will win it easily." [MSNBC, 1/22/03]
At any rate, let's not forget where Palin's experience comes from. That's right, it's because Russia is relatively close to Alaska. You can listen to the interview
here
. The Palin comment is 4:50 into the interview.
BTW, it's also interesting that he mentions a couple of governors as good President, but not one recent one whose last name starts with B.