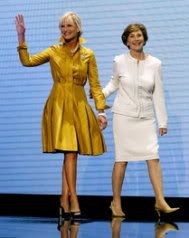 Despite persistent attacks against Obama over "elitism," one need only look at a few things, such as the number of houses (
too many for him to recall
) McCain owns, the multi-million dollar
empire
that Cindy McCain oversees, and the fact that Barack Obama was brought up by a single mother, to know who is really elite.
But here's more evidence.
Vanity Fair
analyzed
Cindy McCain's Tuesday night outfit, and estimated its worth, comparing it to Laura Bush's expensive but not outrageously so outfit on the same night:
Laura Bush
Oscar de la Renta suit: $2,500
Stuart Weitzman heels: $325
Pearl stud earrings: $600–$1,500
Total: Between $3,425 and $4,325

Cindy McCain
Oscar de la Renta dress: $3,000
Chanel J12 White Ceramic Watch: $4,500
Three-carat diamond earrings: $280,000
Four-strand pearl necklace: $11,000–$25,000
Shoes, designer unknown: $600

Total: Between $299,100 and $313,100
VF says it's "just an estimate," but it's not like it's off by an order of magnitude.
At the same time, remember that dress that Michelle Obama
wore
on
The View
that became a fave? $148.
Who's elite?