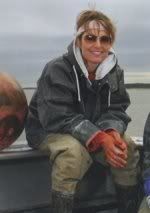 Paul Krugman joined Amy Goodman on
Democracy Now!
on Friday morning. Naturally much of the broadcast centered around the ongoing financial crisis. For those who don't know, Krugman is professor of economics and international affairs at Princeton University and a columnist at the New York Times.
Goodman played an excerpt of Sarah Palin's recent interview with Katie Couric. Couric was in fact on CBS'
The Early Show
and introduced the clip. After watching it, Krugman commented (emphasis mine).
KATIE COURIC:

She's not always responsive when she's asked questions and sometimes does

slip back to her talking points

, so it was a really

interesting

experience for me to interview her yesterday.



MAGGIE RODRIGUEZ:

Let's see if that's the case here. We have an excerpt where you ask her about her opinion on the bailout.



COURIC:

OK.

Why isn't it better, Governor Palin, to spend $700 billion helping middle-class families who are struggling with healthcare, housing, gas and groceries, allow them to spend more and put more money into the economy, instead of helping these big financial institutions that played a role in creating this mess?



GOV. SARAH PALIN:

That's why I say, I, like every American I'm speaking with, we're ill about this position that we have been put in, where it is the taxpayers looking to bailout. But ultimately, what the bailout does is help those who are concerned about the healthcare reform that is needed to help shore up our economy, helping the—oh, it's got to be all about job creation, too, shoring up our economy and putting it back on the right track. So, healthcare reform and reducing taxes and reining in spending has got to accompany tax reductions and tax relief for Americans. And trade, we have—we've got to see trade as opportunity, not as a competitive, scary thing, but one in five jobs being created in the trade sector today. We've got to look at that as more opportunity. All those things under the umbrella of job creation. This bailout is a part of that.



AMY GOODMAN:

Republican vice-presidential candidate Sarah Palin on CBS. Paul Krugman, your response?



PAUL KRUGMAN:

You know, I'm sorry, but, you know, I am a college teacher, and that sounds like nothing so much as a freshman who hasn't actually done any of the—read any of the readings and is confronted with an essay question on the exam, and so he throws in sort of random paragraphs of stuff that he thinks kind of sounds like economics. That was incredible. That was

totally incoherent

.
Look, I'm not an economist like Krugman, but even I could see that was totally rambling and made no sense. This is the person some want to be a heartbeat away from the presidency?
There is an
MP3 version
of the broadcast at Democracy Now!'s site; the clip is about 17:45 into the broadcast.