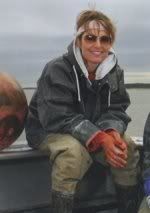 You may recall that White House Press Secretary Dana Perino was
stumped
when it came to the Cuban Missile Crisis. It could be noted that that event happened a pretty long time ago. However, the Supreme Court makes important decisions all the time; not every day, but frequently.
According to
Politico
, part of the Sarah Palin / Katie Couric interview that has not been aired is pretty embarrassing. It makes one wonder if Palin reads the paper at all.
It seems that Couric asked Palin to discuss some Supreme Court decisions. After the obvious Roe v. Wade decision, she could not name any others.
There was no verbal fumbling with this particular question as there was with some others, the aide said, but rather silence.
Shoot, anyone who's paying attention should remember at least one! And particularly a hunter, as she purports to be. I'm referring to the recent gun ownership decision (that just happened in
June
!).
I guess the biggest question now is why CBS hasn't aired this footage.