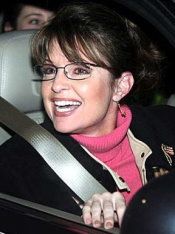 For someone billed as a reformer, this is a strange report. On the other hand, perhaps not so much for someone billed as a "maverick;" this certainly isn't something most would do --- I assume.
The Washington Post
reports
that Sarah Palin billed Alaska for several questionable things. As the Post reports:
During her speech at the Republican National Convention last week, Palin cast herself as a crusader for fiscal rectitude as Alaska's governor. She noted that she sold a state-owned plane used by the former governor. "While I was at it, I got rid of a few things in the governor's office that I didn't believe our citizens should have to pay for," she said to loud applause.
Despite this, Palin billed the state for 312 nights spent in her
own home
during her first 19 months in office. She charged the "per diem" allowance
intended
to cover meals and incidental expenses while
traveling
on
state business
. Traveling expenses, not at home expenses.
The state was also billed about $25,000 for Palin's daughters' expenses and $19,000 for her husband's.
Asked Monday about the official policy on charging for children's travel expenses, Kim Garnero, Alaska state finance director said:
"We cover the expenses of anyone who's conducting state business. I can't imagine kids could be doing that."
More:
The family also charged for flights around the state, including trips to Alaska events such as the start of the Iditarod dog-sled race and the Iron Dog snowmobile race, a contest that Todd Palin won.

Wow, being the "first husband" has some really great perks.
It should also be noted that one trip by Palin to New York City in October of 2007 (accompanied by Bristol, though this would be egregious even without her), Palin spent 3 nights in a $707 / night hotel. The event was Newsweek's third annual Women and Leadership Conference.
Change? This sounds like politics as usual.