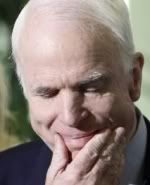 McCain, the man-of-the-people. The non-elite. But not only does he have so many McMansions he
can't keep track of them
, his wife wears a
$300,000 outfit
to the RNC. And this is the person who will understand the pain of the common man, in terms of the economy?
Let us not forget that McCain himself has said his knowledge of the economy is lacking.
Newsweek has a
story
up about McCain's McCars. And based on public vehicle-registration records, it's John and : one.
The Obamas' lone vehicle is somewhat green, a 2008 Ford Escape hybrid. I say somewhat because it's better than most, but not great. But McCain's?
Cadillac CTS made by General Motors (US)
Volkswagen convertible (Germany)
Honda sedan (Japan)
Half-ton Ford pickup truck (US)
Willys Jeep (US)
Jeep Wrangler (US)
Lincoln (US)
GMC SUV (US)
Three NEV Gem electric vehicles - bubble-shaped cars popular in retirement communities (US)
Lexus - registered to Cindy McCain's family's beer business with MS BUD number plate (Japan)
Toyota Prius bought for daughter Meghan (Japan)