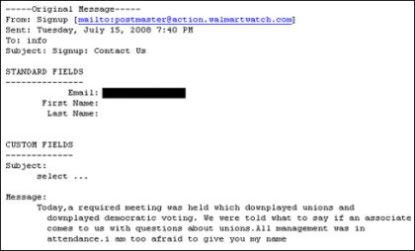 On Friday, the Wall Street Journal
reported
that Wal-Mart has been warning its managers that a Democratic victory in the fall would lead to unionization at Wal-Mart stores. Of course, even Chinese Wal-Mart stores
have a union
. Wouldn't want that in the U.S., though, right?
Naturally Wal-Mart denied this. However, the watchdog site Wal-Mart Watch
posted
an email from a Wal-Mart employee confirming Wal-Mart's activities.
As Wal-Mart Watch said:
that story would not have been possible without the several brave Wal-Mart employees who stepped up and spoke out about the company's practices. One employee wrote in to our website about Wal-Mart's mandatory political meetings, but was too afraid of the company to write much ...

The email is above, with the email address, of course, redacted.