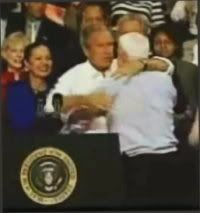 "Celebrity" has become the Swift Boat of the 2008 Presidential Race, although when you think about it, the "celebrity" that McCain is complaining about --- it's really popularity, and shouldn't be a bad thing.
At any rate, Obama's latest ad, fires back at McCain as Washington's biggest celebrity:
"For decades, he's been Washington's biggest celebrity" (showing a SNL intro of McCain).

"And as Washington embraced him, John McCain hugged right back" (showing a video of Bush hugging McCain).

"The lobbyists - running his low road campaign. The money - billions in tax breaks for oil and drug companies, but almost nothing for families like yours. Lurching to the right, then the left, the old Washington dance, whatever it takes. A Washington celebrity playing the same old Washington games."
Both sides, can we get back to the issues?
Watch the video.