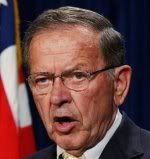 Sen. Ted Stevens (R-AK), lost his bid to move his corruption trial from Washington, D.C. to Alaska. As he is attempting to be re-elected to his seventh Senate term, he asked for the a speedy trial in hopes of completing it before the election. Well, he got what he wanted, but he wanted more.
While his attorneys tried to argue that the distance between Alaska and Washington would be an inconvenience to some witnesses, the real reason for the move would have been to allow Stevens to campaign for re-election nights and weekends. Stevens is facing a hotly contested race this time.
U.S. District Judge Emmet Sullivan denied this motion, saying that a change of venue would delay the trial. You can't have it both ways, Ted. If you want it fast, you can't have a move.
The judge did say that it was possible he might consider a four-day trial week. Of course, that could delay the conclusion of the trial as well. Shoot, maybe he could use that new-fangled "
series of tubes
" called the Internet to help.