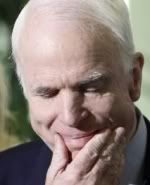 Russia bulldozes into Georgia ... but why are they so cocky? Because they know the U.S. is stretched too thin in the Middle East. A woman discussed this on Wednesday with John McCain at a McCain town hall meeting in Las Cruces, New Mexico.
While she also discussed the treatment of vets (or lack, thereof), she ended on the following:
"If we don't reenact the draft, I don't think we'll have anyone to chase bin Laden to the gates of Hell."



McCain:

"Ma'am, let me say that I don't disagree with anything you said. Thank you, and I am grateful for your support of all of our veterans."
Asked about the draft last September, McCain indicated that any past draft post-WWII has always seemed to be unfair; the wealthy and powerful could get out of the draft, while the poor and less powerful could not. He said, "I might consider it, I don't think it's necessary, but I might consider it if you could design a draft where everybody equally could serve."
Watch the video from Wednesday's town hall: