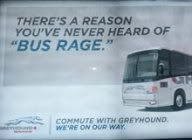 Greyhound has decided to scrap a relatively recent ad campaign in the wake of the
murder
and decapitation of a traveler on one of its buses.
The campaign, which extolled the virtues of a calm, relaxing trip on a Greyhound bus, has been running since last 2007, and used the tagline:
"There's a reason you've never heard of 'bus rage.'"
Tim McLean, 22, was repeatedly stabbed and beheaded by another passenger, Vince Weiguang Li, 40, aboard a Greyhound bus traveling through Manitoba on July 30. Police reported (check the above link) that Li consumed some of McLean's flesh.
Print ads have already been removed, but outdoor signs will take some time to remove,
said
Greyhound spokesperson Abby Wambaugh.
During a brief court appearance on Tuesday, Li pleaded with the court to "kill him."