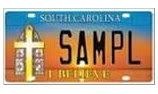 In May, the South Carolina state legislature unanimously
voted
to endorse an "I Believe" license plate, bearing the image of a cross and a stained glass window. Governor Mark Sanford then allowed the bill to become law --- without his signature.
As he said:
"While I do, in fact, 'believe,' it is my personal view that the largest proclamation of one's faith ought to be in how one lives one's life."
Several groups chimed in about the possible unconstitutionality of the plates, but the group Americans United for Separation of Church and State was quickest on the draw (
.PDF
), filing suit in mid-June. The suit was filed on behalf of Rev. Dr. Thomas A. Summers, Rev. Dr. Robert M. Knight, Rabbi Sanford T. Marcus, Rev. Dr. Neal Jones, and the Hindu American Foundation.
Yep, you got it, religious leaders, not atheists, right?
The suit says, in part:
The special preference shown for Christianity via the General Assembly's approval of the "I Believe" license plate not only improperly advances and endorses religion, but also discriminates against citizens of other faiths because it fails to provide a comparable expressive outlet.

and
The South Carolina legislature's decision to align itself with a single religion — Christianity — runs afoul of the Establishment Clause of the First Amendment to the United States Constitution, and the preferential treatment that the State has accorded to the Christian viewpoint violates the Free Speech Clause of the First Amendment to the United States Constitution.
On CNN's
American Morning
today, legal analyst Sunny Hostin indicated that S.C. Lt. Governor Andre Bauer didn't help S.C.'s case at all, by offering to pay $4,000 toward the plates, which as Hostin said, comes across as the state sanctioning the plates.
She also quoted Rev. Barry Lynn, AU executive director, as saying, "I do believe these 'I Believe' plates will not see the light of day."
Conclusion by Hostin: "My legal background tells me that this would be a violation and that a federal judge will probably strike it down."
This video is from CNN's
American Morning
, broadcast July 8, 2008.