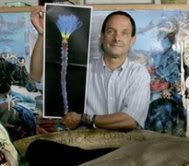 Most people think of immortality as achieved through, perhaps, their children. Not so Jeff Goodhartz. After all he's single without children. So, how to be sure his name would live on? Well, how about naming a sea worm?
That's Jeff above, with his sea worm.
You'll recall that
earlier
I wrote about a similar auction that resulted in the naming of a new species of Mexican butterfly.
Goodhartz bought the naming rights from the Scripps Institution of Oceanography, which unveiled its name-a-species program earlier this year. The price: a bargain $5,000 compared to the $40,800 for the Mexican butterfly.
Scripps curator Greg Rouse is the discoverer of Goodhartz's featherworm. Rouse found it in an underwater mangrove while snorkeling off the coast of Belize two years ago. It is not only a new species, but part of a new genus of Belize featherworms too, he said.
Though the species will be called goodhartzorum, Rouse is still deciding the genus name.