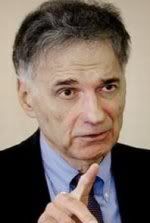 Groan. Ralph Nader, who many cite as the reason Bush won Florida, and thus the election, in 2000, is running for President again. Obviously he has no chance of doing anything except possibly handing another election to the GOP, but besides that, he truly needs to think before speaking.
In an interview with the Rocky Mountain News, Nader was asked if he thought Obama was any better than any other recent Democratic candidate. His response:
"There's only one thing different about Barack Obama when it comes to being a Democratic presidential candidate. He's half African-American. Whether that will make any difference, I don't know. I haven't heard him have a strong crackdown on economic exploitation in the ghettos. Payday loans, predatory lending, asbestos, lead. What's keeping him from doing that? Is it because he wants to talk white? He doesn't want to appear like Jesse Jackson? We'll see all that play out in the next few months and if he gets elected afterwards."
Asked again
about his comment, he continued:
"Do you think he's trying to, what was your term, 'talk white?'"

Nader: "Of course. I mean, first of all, the number one thing that a black American politician aspiring to the presidency should be is to candidly describe the plight of the poor, especially in the inner cities and the rural areas, and have a very detailed platform about how the poor is going to be defended by the law, is going to be protected by the law, and is going to be liberated by the law. Haven't heard a thing."
Watch the video, from
Rocky Mountain News
, broadcast June 24, 2008.