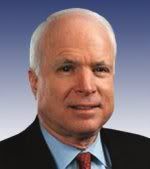 It's evident that John McCain wants to differentiate himself from President Bush. After all, why align yourself with someone with as low an approval rating as Bush. On the other hand, they don't agree on that much anyway, since, as Stephen Colbert indicated on Thursday night, McCain and Bush only agree on:
education, immigration, Iraq, abortion, Supreme Court judges, Social Security, tax breaks for the wealthy, wiretapping, trade, health care, the Middle East, same-sex marriage and Medicare.

Almost no agreement, right?
To prove that he's his own man. John McCain has his own word to describe America's ongoing conflicts. See if you can spot it.

Clips of McCain on the "transcendental challenge facing America."
That's right, the war is now transcendental. There is some question about McCain's new buzzword; it's not entirely clear what he's trying to say.

Does he mean transcendent, which according to Webster's means 'exceeding usual limits'? Because the war has certainly exceeded the time limit.

Or is he intentionally using the word 'transcendental,' which is defined by Webster's as 'of or relating to experience as determined by the mind's makeup.' In which case he's saying the war on terror is all in our heads.

Maybe he didn't meant to describe a transcendental challenge at all; maybe we misheard him because he was having trouble with his dentures.

Clearly, transcendental has too many interpretations. John McCain needs to come up with a new word ("retirement" flashes on the screen).

Everybody knows I've coined a few terms myself. Truthiness, wikiality. So Senator, let me help you. From now, keeping our troops in the Middle East isn't just necessary to win the war. It's downright Iraq-rosanct.

Holding people indefinitely at Guantanamo Bay is Divine Inter-Detention.

And secretly sending prisoners to other countries where torture is legal is no longer extraordinary rendition, it's called Offshore Drilling.

I hope those help. Because using language to turn failed policies into ideals that transcend debate is the best way to get people to think of you as Transcen-Presidential.
Watch the video.