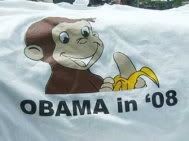 In Georgia, bar owner Mike Norman has been selling T-shirts at his Mulligan's Bar and Grill in Cobb County showing a picture of
Curious Georgie
peeling a banana, with the words "Obama '08" underneath.
Norman began selling the T-shirts in late April. He has said that they are not meant to be racist, and that he thinks the Illinois senator and the character "look so much alike." Yeah, right.
Bill Nigut, southeast regional director for the Anti-Defamation League, disagreed.
He can pretend he doesn't understand what the message of that T-shirt is, but he knows full well that's an offensive and demeaning stereotype used to insult African-Americans.

Houghton Mifflin is the publisher of the
Curious George
books, and they are considering legal action.
Company spokesman Richard Blake said:
Houghton Mifflin Harcourt did not nor would we ever authorize or approve this use of the Curious George character, which we find offensive and utterly out of keeping with the values Curious George represents. We are monitoring the situation and weighing all of our options.
Yeah, well, go for it. In 1998 they
sued
a punk band named Furious George over the use of the Curious George image.
Let's not just sue them, but let's get some damages too, eh?
Racism is alive and well in America.