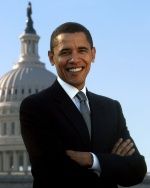 It seems, no matter what you tell people, they still won't believe it. Despite the fact that many use Rev. Wright as a weapon against Obama - which would tend to indicate that he's not a Muslim - many still believe, no matter what they are told.
Witness Janice on this video:
Janice: "He's a Muslim, and you know, and that has a lot to do with it. I just, you know, I'd just rather have Hillary."
Reporter: "Just for the record, he constantly says he's ..."
Janice: "I know he does, he says he isn't."
Wow, some people are just ... seeing as it's West Virginia, and based on the stories about
racism
, is it all just a convenient excuse people use rather than saying the real reason is that he's black?