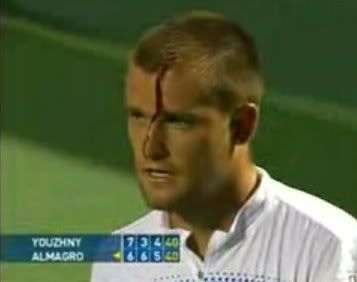 John McEnroe never did anything like this.
Russia's Mikhail Youzhny lost a tough point with a backhand into the net against Spain's Nicolas Almagro in the third round of the Sony Ericsson Open on Tuesday. He then hit himself in the head with his racket, 3 times in a sort of bloody Grand Slam. And he drew a
lot
of blood.
The good thing was, it must have made an "impact" with him, as he bounced back to win in a third-set tiebreaker. Too bad though: he lost in the next round.
Watch the video: