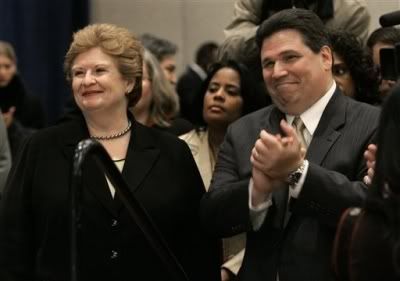 Ah, finally equal time for the fairer sex, as for once a politicians's husband was caught in a sting (yes, I realize the difference in numbers between the genders among politicians). Senator Debbie Stabanow's (D-Mich) husband, Thomas Athans, 46, was reported as admitted paying $150 for sex with Alycia Martin, 20 in a police report (
.PDF
).
Athans is the founder of the liberal TalkUSA Radio network. The Detroit Free Press and The Detroit News first reported on the case.
Here's the backpage.com
ad
for Alycia Martin and her MySpace
page
.
According to the
Detroit Free Press
,
Athans, 46, issued a statement through a Royal Oak law firm representing him, saying, "No words can fully express how sorry I am. At the time this incident occurred, I took responsibility for my actions and fully cooperated with law enforcement. My family and I are dealing with this matter in a personal and private way."

Without being specific, Stabenow, 57, said her colleagues have been showing their support for her. "I'm very grateful for the prayers and support I'm receiving," she said.
BTW, picture of Martin to the left. No indication on the state of Stabenow's relationship with Athans yet.