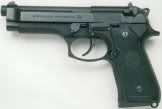 The police chief of Crestview, Florida is currently unable to carry his firearm, sort of a drawback for a law enforcement officer, because of a domestic dispute with his wife.
Police Chief Brian Mitchell said his wife, Candice, has alleged he "threatened to harm her" over the phone Tuesday.
Because of the allegations, the Okaloosa County Sheriff's Office served Mitchell a written injunction Wednesday, and the suspension of weapons privilege is a standard component of the injunction process.
Gun-less or not, he's not allowed within 500 feet of his estranged wife.