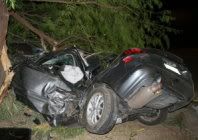 As if we needed more validation, another example of why insurers consider teen drivers a higher risk: not just lack of driving experience, but also lack of judgment. A Peoria, Arizona teen was critically injured when he wrecked his 2002 Mitsubishi Eclipse during what was supposed to be a stunt for a YouTube video.
The idea was to get a video with all four wheels of the vehicle off the roadway. Whoopee, right? The driver, a 16-year-old boy, lost control of the vehicle as it went through an intersection. Ironically, the camera "crew" was so scared by the 70 - 85 MPH speeds, they didn't record the action.
The teen was ejected when the Eclipse rolled over, and remains hospitalized with life-threatening injuries.
A 17-year-old female passenger escaped with injuries that were not life-threatening.
Oh, and yes, that's the car wreckage above.