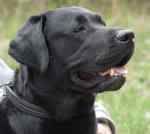 A Bainbridge Township, Ohio cadaver dog out for a walk with its owner found a foot that had been severed in an auto accident hours before.
Virginia Woolf (no kidding) was walking her Labrador Retriever Dolly, a trained cadaver dog, when the dog alerted her to the foot, which had been "lost" by 26-year-old Richard Williams of Burton, when he crashed his car at 2:30 a.m. and the guardrail went through the car.
Authorities attempted to find the missing foot, but despite a search, they could not.
Woolf alerted the police to the find, but the foot wasn't found until Dolly's afternoon walk. Because of the nature of the injuries and the amount of time the foot had been missing, it could not be reattached.