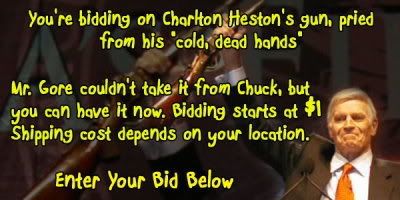 When Charlton Heston made his statement, it was bound to be an unforgettable moment, for good or bad. As he says in the video below, he had only five words, as he raised a flintlock over his head:
From my cold, dead hands.
Radio station Q104.3 has supposedly managed to pry the gun from Heston's "cold, dead hands" and has placed it
up for bid
. Starting bid was $1.
Watch the video of Heston's "speech," and don't forget to bid!
And before people rake me over the coals, I will say: he was a great actor, but I couldn't pass this up.