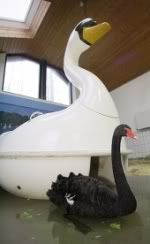 How sad. Earlier I
wrote
that Petra, the swan who had become enamored of a wooden pedal boat in Germany, had found a real swan to mate with. But despite the fact that swans mate for life, that swan, who had been named Paul, left Petra for the company of other black swans.
Since that day, last Saturday Petra "appears to feel lonely" and is "swimming around agitatedly," according to the Muenster Zoo.
Because of this, the zoo plans to reunite Petra and her wooden beau on Friday. The zoo had previously given the pedal boat away, thinking there was no longer any need for it, but it appears they were premature in their thinking.