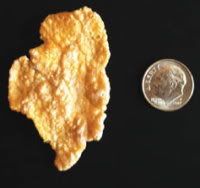 Why anyone would pay more than $1,000 for a corn flake shaped like Illinois is beyond me, but here it is. The eBay auction I wrote about
earlier
has concluded, with the proud winner
paying
$1,350 for the privilege of owning a corn flake.
Shipping costs on the item are listed as $.50, but even if you can ship it safely, my question is ... why? Why would anyone spend $1,350 for a corn flake?
The new owner, Monty Kerr of Austin, Texas wants to add the corn flake to a traveling museum.
"We're starting a collection of pop culture and Americana items," he said. "We thought this was a fantastic one."
Kerr owns TriviaMania.com and said he will likely send someone to Virginia to pick up the flake by hand, so it won't be damaged.
You can bet that Melissa McIntire, 23, and her sister Emily, 15, of Chesapeake, Virginia are really happy right now.