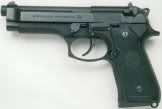 A woman in Longview, Texas dodged a bullet - literally. It happened during an attempted robbery at a convenience store last weekend.
Robin Adams was working behind the counter when a man walked in and pointed a gun at her face. Just as he pulled the trigger, she leaned to the right and ducked. That's not the end of it though. As he tried to cock the gun again, Adams pulled out her own gun from behind the counter and went toe to toe with him.
"He cocked the gun to shoot (at) me again, and then I went barrel to barrel with him," Adams told the Daily Sentinel. "This thing happened so fast that nothing was said about money. It was like he came in here to kill me."

No one was injured but the robber is still at large. Police hope surveillance photos will help them capture him.