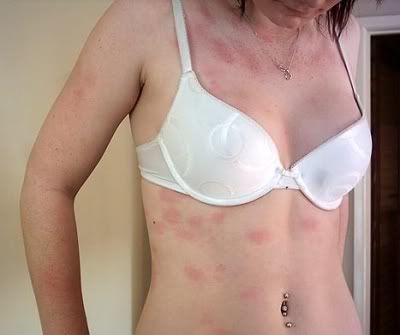 It may be difficult to believe, but 19-year-old Ashleigh Morris, from Melbourne, Australia, is allergic to water. She's lived with the condition since she was 14, and it's so bad that even sweating will cause her to break out in a rash.
Morris suffers from an extremely rare skin disease called
aquagenic urticaria
. Contact with water of any temperature causes suffering. Morris can only take 1-minute showers, in fact.
As she told the
Daily Mail
,
"Although my rash is unsightly, and often looks like I'm diseased, the feeling is so much worse than it looks. I can't go anywhere for about two hours afterwards because it's so severe. There's been many occasions where I've been so itchy, I've made myself bleed from scratching."
She developed the condition after an acute case of tonsillitis, when she was prescribed a heavy dose of penicillin. Her dermatologist, Professor Rodney Sinclair, said the penicillin had changed the histamine levels in her body, causing the aquagenic urticaria. There is no cure and no successful treatment. It affects only the skin; she can drink water without any reaction.
While dermatologists agree there's an association with elevated blood histamine levels (such as those indicated in Morris' case), antihistamine drugs often provide no relief at all - so they also agree there must be some other causative effect.
Both her family and boyfriend of three years, Adam, 23, have been very supportive, but it must put a real damper on parts of her relationship. "We have to sleep with a sheet between us at night, and I can't go near him if he's sweaty," she said.