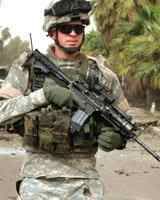 Much has been made of the repeat Iraq and Afghanistan tours some soldiers have been forced to endure. One man did not want to return, and he decided he would do anything to prevent it. Including, Army Pfc. Matthew Myers, 20, of Apple Valley, California decided, having a friend shoot him in the leg.
He told police he had been attacked and robbed by an unknown assailant while walking along the Apple Valley Country Club golf course. Unfortunately, someone hadn't watch too many forensics shows, as police became suspicious when footprints near the spot where Myers was shot showed he and the shooter had been walking together prior to the incident.
After police interrogated him for some time (I'm assuming no waterboarding took place), Myers admitted it was all a ploy to avoid going back to Iraq, planned by Myers with his best friend, Daniel Dotterrer, 20, also of Apple Valley.
Charges may be filed, with Dotterrer facing conspiracy and assault with a deadly weapon and Myers facing conspiracy.
While a military spokesman said that a leg wound like Myers' would not normally be enough to cause a soldier to be discharged, it's obvious that it would have delayed his deployment.
Why would he do this? PTSD, perhaps? Unknown at this time, but the incidence of PTSD in veterans returning from Iraq has definitely been on the upswing.