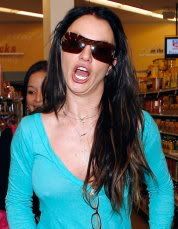 A Los Angeles court commissioner has placed Britney Spears and her estate under temporary conservatorship. A conservatorship is created when it is determined that a person cannot care for themselves or handle his or her own affairs.
In effect, this means co-conservators Jamie Spears and attorney Andrew Wallet have been granted temporary legal control over Britney's affairs, though only until Monday - for now.
The conservators can also communicate with Brit's doctors and access medical records, but they cannot make medical decisions.
Even stranger, when Britney heard about the decision, she
went nuts
- or more nuts. In a heavy British accent, she screamed into a phone,
"I'm so sick of all of this they can have the God Damn house and stick it up their f**king asses. Actually, no, they can't."

The British accent appears more and more often nowadays, and while it could be said to be playing with paparazzi, in this case, it's just plain nuts! And it's not a dual personality, according to my psychologist wife, because she shouldn't be able to remember anything that happened to the subordinate personality if that was the case.
Definitely more to come.