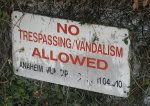 In Poland, Janusz Nowak, 61, was going around innocently posting anti-vandalism notices in the Polish town of Sosnowiec. Unforunately, after he posted a notice on a bus stop he was arrested - for vandalism.
The notice read: "Dear Vandals - please stop destroying the bus-stop." A police spokesman said: "Although the man had good intentions and wanted to express his indignation towards hooligans' behavior in the neighborhood he unfortunately broke the law himself."
Thanks to this week's NPR radio show
Wait, Wait Don't Tell Me
for this.