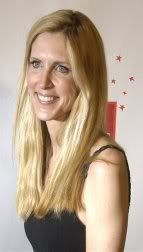 Thursday on
Hannity & Colmes
Ann Coulter
said
that if McCain gets the GOP nomination she would actually campaign for Hillary. Friday on
Your World with Neil Cavuto
she repeated that assertion.
Coulter: Either way it's gonna be a Democrat. I'll be going for the more conservative Democrat if I vote for Hillary over John McCain.

Cavuto: Really, do you really mean that?

Coulter: Yes, absolutely. And if you look at the issues, I mean you can bring on Republican consultants on the show who will vote for anyone including Joseph Stalin if he has an "R" after his name. Or you can look at the issues.

...

Cavuto: Ann, you're angry. Why are you so angry? I'm just asking you a question. Is this guy angering you ...

Coulter: He lies a lot more, he has no honor.

Cavuto: What happened with you and McCain? Is there something ...

Coulter: I'm a conservative, Neil. I just have a thing for voting for the more conservative candidate.
Whew. Coulter is a Huckabee backer, BTW. A question would be is she also doing this to undermine Clinton in terms of Democratic voters, by portraying her as conservative?
Watch the video: