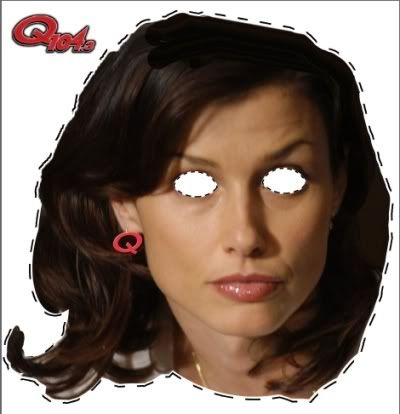 It's probably not as good as having a
Jessica Simpson look-alike
show up for a DAL game to jinx Tony Romo - or maybe it's better? A local radio station wants listeners to download and wear a Bridget Moynahan mask to psyche out Tom Brady during the Super Bowl. They want a sea of Moynahan's to really mess with his mind.
Of course, the history of Moynahan and Brady is well-known, with her getting pregnant right around the time they broke up -- which was also very close to when he started dating Brazilian supermodel Gisele Bundchen.
Q1043 wants listeners to:
1.) Download from
Q1043.com
2.) Print out Bridget Moynahan mask
3.) Cut along dotted lines
4.) Psyche out Tom Brady
They don't have permalinks to their
site
, but you should be able to get the mask from the link above, at any rate. They did customize Moynahan a little by giving her Q1043 earrings.