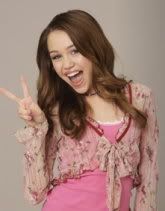 At least this Miley Cyrus story doesn't involve a
disrobed Miley
.
In case you didn't know, not only is Miley Cyrus not Hannah Montana, she's not Miley Cyrus either. Or at least she wasn't. Her birth name is - or was - Destiny Hope Cyrus
Miley was her nickname. Since she was little, her dad called her "Smiley," which morphed into "Miley," according to
IMDB
.
According to
ET
, she's changed her name legally to Miley Cyrus. Miley Ray Cyrus, to be exact. Three guesses as to where the "Ray" came from.