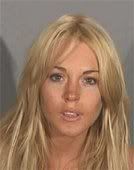 Lindsay Lohan started the New Year off wrong, as she was caught on video drinking from a champagne bottle (below).
Blair Berk, Lohan's lawyer said in a statement, "After being handed a champagne bottle while on a dance floor in Italy on New Year's Eve and drinking from it, the good news is that Lindsay immediately stopped, called her sponsor, and got herself back on track. There is no magic cure here. Unfortunately, Lindsay has to share her 'one day at a time' with the entire world."
Right. First of all, she's going to have to learn to keep away from those sorts of parties, if she's serious about getting over her addiction. They are just a big temptation, nothing else.
Second of all, whoever gave her the bottle is a major enabler. They should know better. And alcoholic should not be given a bottle, obviously.
Last year Lohan was in rehab three times.
Watch the video: