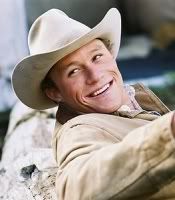 Although the reasons for Heath Ledger's death are still unknown, drugs are still suspected. And, according to Access Hollywood, drugs led to the split between Heath Ledger and Michelle Williams.
People Senior Editor J.D. Heyman spoke to
Access Hollywood
, and said,
"Well, certainly Heath Ledger was a partier. He liked to go out, he was a known user of drugs, he used cocaine.
He had a lifestyle that really wasn't — at least in Michelle William's eyes — compatible with raising a child and continuing in that relationship. Even though their relationship did not work out, she did love Heath — she loved him very much."

Williams reportedly didn't want Ledger's partying and drug use around their child, Mathilda. At the same time as Access Hollywood's story, US Weekly reports that in 2006 Williams drove Ledger to Promises Treatment Center, but he refused to get out of the car and instead convinced her he would change.

Ledger will be laid to rest in his native Australia in just a few days.