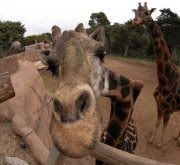 One of the Santa Barbara Zoo's most recognizable and beloved animals, Gemina the crooked-necked giraffe, was euthanized Wednesday. She was 21 years old.
"We observed a decline in her appetite over the past two weeks and she had stopped eating all together," said Alan Varsik, the Zoo's Director of Animal Programs and Conservation. "The welfare of our animals is the number one concern here at the Santa Barbara Zoo and her declining condition appeared to affect her quality of life. We did everything we could but the time came when we had to make the humane decision. She was off exhibit in the giraffe barn when she died."
"Though a few giraffes in captivity have been known to live into their late-twenties, reaching age 21 is considered an achievement," said Rich Block, Zoo CEO & Director. "She was a great animal ambassador, showing that differences can be accepted and even celebrated. She will be missed."
The kink in Gemina's neck began around the age of 3, and continued through her life. It's unknown what the cause of the was, despite having x-rayed her neck.
A necropsy is to be conducted, but the results will not be known for several weeks.
The zoo made a video about Gemina to celebrate her 21st birthday. Watch it below.