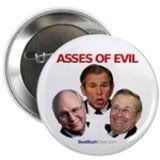 Playing off the "
Axis of Evil
" term coined by Bush in his 2002 State of the Union Address, an entrepreneur has been doing brisk business on the Iowa circuit with "As*es of Evil" buttons.
According to
The Hill
, six months ago, Jeremy Beggun was living and working in Sarasota, Florida, where he repaired refrigerators and air conditioners for local restaurants. Taking a break from the work, he accepted an invitation from a friend to peddle campaign paraphernalia.
Besides the traditional candidate buttons and shirts, Beggun has seen the "As*es of Evil" buttons become popular items, as have buttons that say "Good Riddance" with a picture of Bush on them.
According to
The Hill
, Beggun said, "We're not offering 'A---- for Evil T-shirts. They'd sell, though."
There's a
website
with that name, BTW. I'm not sure if they are affiliated or not, or if Beggun gets his merchandise from them. Since I found a lot of pictures with that same slogan on Google Images, it doesn't seem to be an exclusive item anyway.
Anyway, that site appears to have been in business since the late '90s. They have shirts and buttons, and an online CafePress
store
. You might want to look there if you can't get out to Iowa.