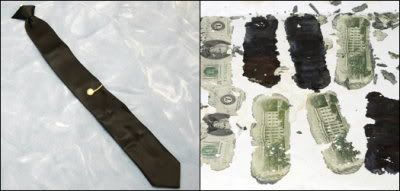 Over thirty-six years ago, on November 24, 1971, a hijacker jumped from the back of a Boeing 727 over the Pacific Northwest along with $200,000. That person, D.B. Cooper, has never been seen or heard from since, although small quantities of the money have been recovered.
Today the FBI issued a
press release
saying they have "re-ignited" the case, thanks to Special Agent Larry Carr (anyone besides me wonder what is "special" about Special Agents?) and DNA.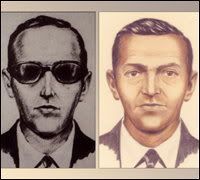 Above left is a photo of the tie that Cooper was wearing and later discarded. A DNA sample was later obtained from it. To the right above are some of the $20 bills discovered by a young boy in 1990.
According to the
press release
, there are some important things to remember about the case.
Cooper was no expert skydiver. "We originally thought Cooper was an experienced jumper, perhaps even a paratrooper," says Special Agent Carr. "We concluded after a few years this was simply not true. No experienced parachutist would have jumped in the pitch-black night, in the rain, with a 200-mile-an-hour wind in his face, wearing loafers and a trench coat. It was simply too risky. He also missed that his reserve chute was only for training and had been sewn shut—something a skilled skydiver would have checked."
The hijacker had no help on the ground, either. To have utilized an accomplice, Cooper would've needed to coordinate closely with the flight crew so he could jump at just the right moment and hit the right drop zone. But Cooper simply said, "Fly to Mexico," and he had no idea where he was when he jumped. There was also no visibility of the ground due to cloud cover at 5,000 feet.
We have a solid physical description of Cooper. "The two flight attendants who spent the most time with him on the plane were interviewed separately the same night in separate cities and gave nearly identical descriptions," says Carr. "They both said he was about 5'10" to 6', 170 to 180 pounds, in his mid-40s, with brown eyes. People on the ground who came into contact with him also gave very similar descriptions."
There's more information at the press release linked above. The FBI is asking anyone with information to email them at their Seattle field office at
fbise@leo.gov
.