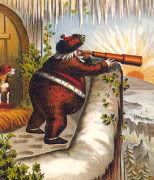 It's already too late for this year, but Kyrgyzstan is campaigning to become next year's new home for Santa Claus. After all, according to a
press release
issued by engineering consultants at Stockholm-based Sweco, Kyrgystan is the ideal delivery hub for Santa.
According to the press release:
One of SWECO's areas of expertise is the use of geographic information and maps, for example to plan transports in an optimal manner. In order to calculate Santa's ideal route, they have also studied where children live, the Earth's rotation and various demographic data to find our planet's demographic centerpoint.

Upon hearing this, officials in Kyrgyzstan started the campaign, naming a mountain peak after Santa, to join Mounts Lenin, and Yeltsin. They also declared 2008 "The Year of
Santa Claus
."
Interestingly, Kyrgyzstan is predominantly Muslim. While many, including myself, believe Christmas has become more consumption and consumer-based than anything else, people like
Mike Huckabee
would strongly disagree. I wonder what they would think of this.
On the other hand, since global warming is
rapidly melting
the polar ice at the North Pole, Santa's gonna need a new location someday.