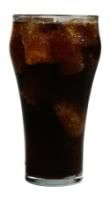 I hope this doesn't get the "crazy" label applied to San Francisco again. What am I thinking, of course it will.
For environmental reasons, SF has already
banned city bottled water purchases
--- which I agree with: usually the water is no better than tap water, and the main thing it offers is convenience, which is offset by the huge amount of petroleum used to make the plastic bottles, as well as the wasted bottle which (let's be honest) generally end up in landfills rather than being recycled.
For similar environmental reasons, SF has
banned plastic shopping bags
.
Now SF is considering taxing sellers of sugary drinks, such as soda. This would be part of mayor Gavin Newsom's new "Shape up San Francisco" program, which started this past summer with a walking program.
Newsom cited a Health Dept. study showing nearly 25% of 5th, 7th and 9th graders in SF are overweight, with soda accounting for 10% of their caloric intake (don't ask me why grades 6 and 8 don't have a problem).
Although the AMA originally backed such a plan in 2006, it
backed off
it later.
This comes as the State of California is considering adding
warning labels
to caffeinated drinks.
I personally see no issue with this if retailers are saddled with the tax, but we know it'll be passed along to consumers. Frankly, one need only looking around to see how immense the obesity problem is in America, and the world, for that matter. Personally, although I drink a decent amount of soda, it's always diet, and preferably caffeine-free.