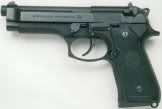 This guy's in the running for biggest jerk in the world ... and that's just to avoid using curse words in my post. In India's northern state of Uttar Pradesh, a man tricked his grandson into shooting his grandmother by telling him it was a toy gun.
After the man, Dhaniram (note: he uses only one name), handed the six-year-old the gun, the boy took aim and shot her in the chest. The woman died of her wounds.
According to police, "The old man wanted to get rid of his 70-year-old wife because she would pester him on domestic issues and he felt stifled with her presence. He then used his innocent grandson to do away with his wife and the little boy walked into the trap and fired the shot."
The boy gave the police the details during questioning and they arrested the grandfather.
What gets me is why the man thought he could get away with it. It seems like he must have thought out the idea, but it definitely wasn't on the shrewd side.