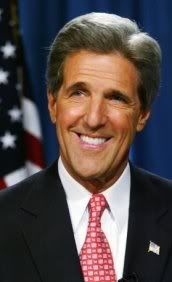 It's no secret that the New England Patriots are on the verge of the second undefeated regular season in NFL history, and the first since the season was expanded to 16 games. However, the final game, unfortunately for many, is going to be broadcast on the NFL Network, not on NBC. John Kerry thinks that's wrong, particularly for his constituents, and he has threatened NFL Commissioner Roger Goodell with Senate hearings if the broadcast isn't moved.
The NFL Network only services 35 million households and there is an
ongoing dispute
between the NFL and cable operators over the way the network is broadcast. The NFL wants the network on the basic tier, available to more people, while most cable operators want it on a sports tier.
Kerry has offered to
broker a deal
between the two sides, but so far nothing has happened. In a letter sent Monday to Goddell, and released by Kerry's office, Kerry said, in part:
For a game of this significance to be used as a bargaining chip or point of leverage between corporations locked in a dispute would say a great deal about the esteem in which America's football fans are held by the big interests. Under the unfortunate circumstance that this matter remains unresolved, leaving 60 percent of households across the country - including thousands in Massachusetts - without access to Saturday's game, I will ask the Senate Commerce Committee to hold hearings on how the emergence of premium sports channels are impacting the consumer, and I will consider what legislative measures may be necessary to ensure that consumers are more than bystanders in this process.

I hope very much to see a satisfactory solution achieved. I've offered - and my offer stands - to convene a meeting of all parties with the goal of reaching an 11th hour solution. I hope it is not too late to get something done for fans everywhere. Thank you for consideration of this request.
Here's what I have to say: thank you, Sen. Kerry for tackling (pun intended) the big issues. While I agree it's a big game, that's what it is, a game. It's a sporting event. We have a lot bigger issues to deal with, from Iraq to global warming to health care ... this is should be one of the smaller issues on people's minds.
On the other hand, it's true that other senators, such as Patrick Leahy (D-VT) and Arlen Specter (R-PA) have threatened similar measures, even to the point of re-addressing the NFL's antitrust exemption.
What's going to happen? Ordinarily, with only a few days left to go, I would say: nothing. But with all this publicity, who knows? Still, all the ads are sold, everything is already set, I can't see it happening. I'll say this: it's gotta be good PR for Kerry with his constituents.