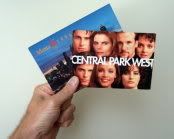 What can't you do with eBay? Auction off
used porn star breast implants
, your pot-smoking son's
Guitar Hero III game
(for 9K, no less), and now a way to drive someone insane ... with postcards.
The auction is currently at $152.50, and has 5 more days to run. The seller,
bsack
, will be spending the holidays in a tiny Polish village and is looking for a way to traumatize a complete stranger for you.
Here's how the
auction
works:
The winner will provide the seller with very detailed personal info on the victim. The seller will then send three postcards written insanely, but with said details (terrifying the victim, of course). Being sent from Poland, the victim will be further confused.
Even stranger, one card will be on an original promotional postcard announcing the 1995 television premiere of
Central Park West
on CBS. Yes, that masterpiece of TV. Another will be a postcard celebrating Atlanta's hosting of the 1996 summer Olympic games.
As the seller says:
When you decide to end the torment is completely up to you. If you can, I recommend owning up on 1 April 2008 - giving you nearly half a year of joy and a George Clooney-esque level of prankage. If you can't hold it in that long, I totally understand.
While this sounds hilarious, I must admit my wife and I watch too many episodes of
Forensic Files
,
Cold Case Files
,
Notorious
and the like. We'd be absolutely beside ourselves if this happened to us.
It turns out bsack is none other than
Brian Sack
, who guests often on Glenn Beck's show. As a humorist, it makes sense he would think up something so crazy.
Problem: unlike the Guitar Hero III auction I linked above, Sack has a great rating ... 100% for 82 auctions. But since he just talked about this on Beck's show today, he basically gave it waaaay too much publicity and there's a decent chance your victim may hear about it. Oh, well.