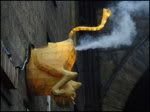 It's actually more faithful than "Old Faithful," since it goes "off" every day precisely at 11 AM, 12 noon, and 1 PM.
The Rowan Tree pub in the Edinburgh's historic Old Town has a cow's butt protruding from the side of it, which lifts its tail and breaks wind, using a dry ice machine to make sure it has plenty of flatulence for tourists.
According to pub owner and former Scotland rugby star Norrie Rowan, "A lot of people already use it as a landmark when they are meeting people, so it's already famous."
Edinburgh already has a regular attraction, the
One O'Clock Gun
, which is fired from Edinburgh Castle every day at 1 PM, but Rowan insists he's not trying to outdo the gun with his cow butt. As far as that goes, I think he might just be blowing smoke.