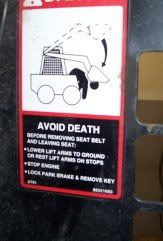 I've said, and so have others, that the U.S. is
overly litigious
. The Michigan Lawsuit Abuse Watch (M-LAW) runs the
Wacky Warning Label Contest
(now in its eleventh year) to show how lawsuits have "driven the proliferation of common-sense warnings on U.S. products."
Kevin Soave of Farmington Hills, Michigan won the $500 grand prize for the submission of "Danger: Avoid Death," a warning label on a small tractor (pictured)
Other winners:
$250 second place award: Carrianne, Jacob and Robby Turin of Greensburg, Pennsylvania for a label they found on an iron-on T-shirt transfer that warns: "Do not iron while wearing shirt."
$100 third place award: Richard Goodnow of Lancaster, Massachusetts for a label on a baby-stroller featuring a small storage pouch that warns, "Do not put child in bag."
Honorable mention goes to Cyndi LaMonde of Traverse City, Michigan for a warning label on a letter opener that says "Caution: Safety goggles recommended."
Honorable mention goes to Ann Marie Young of Fillmore, New York for a warning she found on Vanishing Fabric Marker which says "The Vanishing Fabric Marker should not be used as a writing instrument for signing checks or any legal documents."
But this contest, though humorous, is meant to show how out-of-whack our civil justice system is. Lawsuits can be filed over anything, even things that defy common sense. Hence, the near-crazy warning labels outlined above.