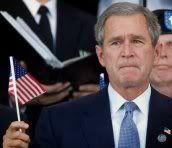 I'm always angered by people like Giuliani who use
bogus stats
to attack Universal Health Care, or by people like Bush, who, after his speech in Fredericksburg, Virginia on the economy, said:
I'm going to tell you something — we have fabulous health care in America, just so you know. I think it's very important — before people start griping about the health care system here — and of course there's always grounds for complaint — just to compare it with other systems around the world.
Yes, and that's the problem. When compared with other systems around the world, we come up short, Bush!
As I indicated in a prior
post
, every other industrialized nation has some form of Universal Health Care --- and we are at the bottom of the infant mortality statistics because we do not.
Let's also not forget the WHO's report in 2000, called "Health systems: improving performance." As the WHO says,
This report examines and compares aspects of health systems around the world.
This is what Bush was looking for, right? It should say we have stellar performance, right? Wrong.
This report said the United States is
ranked
37th, one ahead of Slovenia and only two ahead of Cuba! This is the same report Michael Moore outlined in his movie
Sicko
, BTW.
As I've said before, every other industrialized nation has some sort of Universal or Single Payer system. Is that because we are right and everyone else is wrong? Doubtful.
As far as Bush's statement goes, of course for people like him (and
Cheney
) American health care is fabulous. They're rich, so even if they didn't get free health care because of their positions, they'd easily be able to afford any health care they need.
Do you seriously think someone like Cheney with "four heart attacks, quadruple bypass surgery, angioplasty, an implanted defibrillator and an emergency procedure to treat an irregular heartbeat" could get private health insurance?
Let's catch up with the rest of the world and move to Universal Health Care. The only reason not to do it? Contributions from pharmaceutical companies, health care lobbies, doctors who like the status quo and fattening their wallets ... that sort of thing.
For John and Jane Q. Public and the middle-class: it's the way to go.