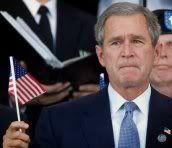 This holiday Barney Cam video, fortunately for many, doesn't feature much face time for George W. It does have cameos by country singer Alan Jackson and former British Prime Minister Tony Blair.
The video, is basically a piece aimed at recruiting park rangers (though I don't really know why, considering Bush's ongoing record of environmental slight-of-hand). I mean, if you really care about the environment, Bush, let's not just look at the United States parks, but at
what's going on in Bali
.
Of course, I can't fault Barney or Miss Beazley, both of whom end up being named "Junior Park Rangers" in a dream sequence, and are congratulated by Tony Blair, who says, "Congratulations Barney and Miss Beazley on becoming Junior Park Rangers. Well done. As someone who was born in Edinburgh, Scotland – it's always good to see the Scots doing well."
If anything, I feel sorry for them, having to live with George W. as their "alpha dog."
Watch the video: