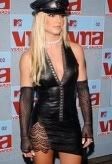 Another night with Britney Spears, another fiasco. In this case Britney stopped her car, jumped out and decided to stand in the street to take a picture of a roadside mural. Surrounded by paparazzi, she said "I'm just like you" while trying to get a picture. Of course, she couldn't take the picture because there were too many photogs around, so she got ticked off, swore at them and drove off.
As she left, though, it looks like she hit her camera against a nearby car, on purpose. Both vandalism and stupid, as she had to return later to find her memory card, which probably had something on it she didn't want anyone else (like us) to see.
Someone found and and kindly (though perhaps, stupidly) gave it to her.
That's when things got really crazy. She got into a car with a photog (?) and ended up, pink wig and short dress and all, at the Peninsula Hotel with him. Later he came out, was immediately surrounded by paparazzi, and declared that he was just going to get some cigarettes! Hah! Does that imply what we think it implies?
While it's true that maybe the photogs should get out of her way so she can snap her picture, her behavior --- standing in the middle of the street --- just emphasizes the fact that she thinks she's better than everyone else. Let's not forget about her parking in a
handicapped space
just a couple of days ago.
Britney, you are a train wreck. Why the judge hasn't taken your kids away from you permanently is beyond me.
Watch the video: