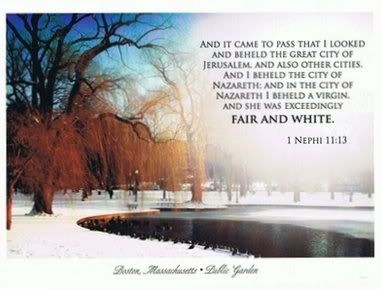 This week many South Carolina Republican voters received Christmas cards purportedly from Mitt Romney. However, the cards, which included passages from the Book of Mormon, were in fact not from Romney.
You can see the first page of the card above, which includes 1 Nephi 11:13 from the Book of Mormon, saying:
"And it came to pass that I looked and beheld the great city of Jerusalem, and also other cities. And I beheld the city of Nazareth; and in the city of Nazareth I beheld a virgin, and she was exceedingly fair and white."
You can see that the card puts the words "fair and white" in a bold, large font.
Page 3
of the card says:
"We have now clearly shown that God the Father had a plurality of wives, one or more being in eternity by whom He begat our spirits as well as the spirit of Jesus His first born, and another being upon the earth by whom he begat the tabernacle of Jesus, as his only begotten in this world."

This is a passage from
Orson Pratt
, cited on that page of the card as an "original member of the
Quorum of Twelve Apostles
." The Quorum was one of the governing bodies of the church hierarchy organized by founder Joseph Smith, Jr.
Page 2
and
page 4
are here, and the last page features a photograph of a temple above a box that says "Paid For By The Boston Massachusetts Temple."
Boston Temple President Ken Hutchins said "They have no business using that name or referring to the temple," Hutchins said. "It's a very hurtful thing and creates a misleading impression in peoples' minds." His temple, like the parent Mormon church, stays out of politics.
It's obvious that whoever sent the card was pointing out the differences between the Church of Jesus Christ of Latter Day Saints and other denominations that are prevalent in South Carolina. Mitt Romney's Mormon faith has been a point of contention in his campaign, with many in the U.S. stating they would "never vote for a Mormon."
South Carolina Republican Party Chairman Katon Dawson said he intends to ask the FBI's Elections Fraud Division for a thorough investigation into the matter.
South Carolina's primary is on January 19th.