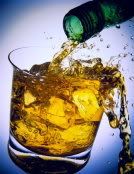 Rest assured, he wasn't saying it proudly.
Justice secretary Kenny MacAskill said "Scotland has a huge cultural problem with alcohol. It's never more evident than around Christmas and New Year when getting drunk can feel and look like the national sport."
He added, "We're not saying don't have a drink. I enjoy the occasional pint of beer as much as the next man. But when nearly half of those accused of murder were drunk when they committed their offense, when one Scot dies every six hours from alcohol abuse, when alcohol costs our economy tens of millions, it's time to say enough is enough."
This comes as the government plans to publish a long-term plan to change attitudes regarding alcohol next year. It includes a ban on "three for two" or other promotional liquor offers. The government has already raised the cost of liquor licenses by up to 40%.
Kind of explains why the government would pay for
in-game ads
in an attempt to reduce drunk driving, doesn't it? It might also explain the Scottish game of shinty, which many say is related to
hurling
.